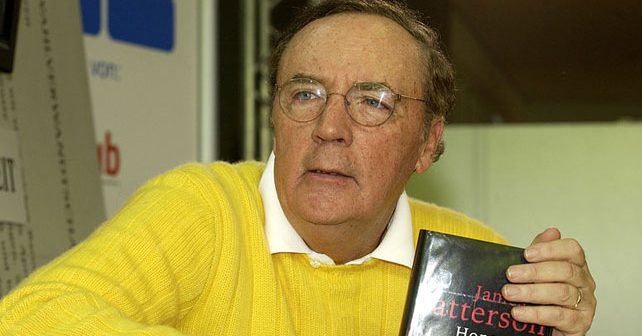 Foto: Blaues Sofa / CC BY SA 2.0
Džejms Brendan Paterson (James Brendan Patterson) je profilični autor detektivskig priča, trilera, naučne fantastike, ljubavnih romana, kao i romana za tinejdžere. Rođen je 22. marta 1947. godine u Njujorku. Živi i radi u Floridi.
Njegova prva knjiga je objavljena 1976. godine, a 20 godina kasnije je napustio karijeru u oglašavanju kako bi se posvetio pisanju.
Paterson je upisan u Ginisovu knjigu rekorda (Guiness World Record) kao pisac sa najviše knjiga na listi bestselera Njujork Tajmsa (New York Times).
U 2016.-oj godini, Paterson je bio na vrhu Forbsove (Forbes) liste najplaćenijih pisaca, treću godinu zaredom, sa prihodom od 95 miliona dolara.
 

View this post on Instagram

 
Detinjstvo i obrazovanje
Džejms Paterson je rođen 22. marta 1947. godine u Njuburgu (Newburgh) u državi Njujork (New York). Njegovi roditelji su Isabela Moris (Isabelle Morris), domaćica i učiteljica, i Čarls Paterson (Charles Petterson), posrednik u osiguranju.
Paterson je bio dobar učenik, ali nije uživao u čitanju dok nije završio srednju školu. Upisao se na koledž na Menhetnu (Manhattan College) kao redovni student, nakon čega je upisao master studije iz engleske literature na univerzitetu Vanderbilt (Vanderbilt University).
Karijera
Paterson je napustio Vanderbilt nakon godinu dana, i počeo da radi kao autor reklamnih tekstova u agenciji za oglašavanje Džej Valter Tompson (J. Walter Tompson) 1971. godine.
Uspeh sa serijom Aleks Kros
Iako je napredovao u kompaniji, i nakon nekog vremena postao glavni izvršni direktor za severnu Ameriku, u slobodno vreme je pisao fikciju. Njegova prva knjiga, "The Thomas Berryman Number" je objavljena 1976. godine. Osvojila je nagradu "Edgar", koja predstavlja najprestižniju nagradu za pisce misterija.
Paterson je iznedrio još nekoliko romana, ali je tek 1993. godine doživeo uspeh sa romanom "Along Came a Spider". Koristeći svoje radno iskustvo, organizovao je televizijsku reklamnu kampanju za roman, i tako od njega napravio bestseler.
Paterson je 1996. godine napustio posao u agenciji za oglašavanje kako bi se u potpunosti posvetio pisanju.
U mnogim Patersonovim knjigama pojavljuje se detektiv Aleks Kros (Alex Cross), glavni junak iz "Along Came a Spider". Njegov lik u filmskim adaptacijama predstavljaju Morgan Frimen (Morgan Freeman) i Tajler Peri (Tyler Perry).
Različiti žanrovi
On je takođe napisao brojne romane o Njujorškom detektivu Majklu Benetu (Michael Bennett), sa njegovih desetero usvojene dece.
Još jedna Patersonova popularna serija je "Klub žena ubica" ("Women's Murder Club"), koja je adaptirana u kratku televizijsku seriju, 2007. godine. Njegov repertoar sadrži i ljubavne romane, naučnu fantastiku, istorijsku fikciju kao i nefikcijske romane.
U periodu od 2018. do 2021. godine Paterson je objavio sledeće knjige iz serijala o Aleksu Krosu: "Target: Alex Cross", "Criss Cross", "Deadly Cross" i "Fear No Evil".
Treću knjigu iz serijala Trevis Mekinli pod nazivom "Miracle at St. Andrews" izdao je 2019. godine.
Iz serijala "Ženski klub ubica" od 2019. do 2021. godine izašle su knjige "18th Abduction", "19th Christmas", "20th Victim" i "21st Birthday", a napisao ju je uz pomoć Maksin Paetro (Maxine Paetro).
Otprilike u isto vreme su se u prodaji našle knjige "Ambush", "Blindside" i "The Russian" iz serijala o Majklu Benetu. Za saradnika je ovog puta izabrao Džejmsa O. Born (James O. Born).
Proces pisanja
Patersonovo ime se nalazi na više knjiga nego kod većine pisaca. Objavio je 13 knjiga 2012. i 2013. godine, te 14 u 2011.-oj godini. To je postigao uz pomoć koautora. Njegov prvi takav rad je bio "Miracle on the 17th Green" iz 1996. godine, a koautor je bio Piter De Jong (Peter De Jonge).
Kada radi sa drugim piscem, Paterson prvo napravi opširni nacrt, koji pošalje koautoru. Koautor dalje razrađuje nacrt, dok Paterson prati napredovanje priče i rukuje sa revizijama pre objavljivanja.
Sam i sa koautorima, Paterson je imao brojne bestselere. Njegovo ime je upisano u Ginisovu knjigu rekorda, kao pisac koji ima najviše fikcijskih romana u tvrdom uvezu koje su se našle na listi najprodavanijih knjiga Njujork Tajmsa.
Do aprila 2022. godine, prodao je preko 400 miliona knjiga širom sveta i milion elektronskih izdanja. Paterson, za svoj rad, zarađuje milione svake godine, a njegov uspeh u brend menadžmentu je postalo predmet izučavanja u poslovnoj školi na Harvard univerzitetu.
Privatni život
Paterson je oženio Su Soli (Sue Solie) 1997. godine. Sledeće godine su dobili sina, kojem su dali ime Džek (Jack). Od 2018. godine, sa porodicom živi u Palm Biču (Palm Beach) u Floridi.
Veruje da je važno pomoći deci da nauče da zavole čitanje, i zbog toga je pokrenuo internet stranicu ReadKiddoRead.com. Ova stranica savetuje roditelje u odabiru literature za njihovu decu.
Nacionalna Književna Fondacija (National Book Foundation) je, u novembru 2015. godine Patersonu dodelila nagradu za značajan doprinos Američkoj književnoj zajednici (Literarian Award for Outstanding Service to the American Literary Community).
Iste godine je donirao 1.75 miliona dolara bibliotekama u javnim školama i milion dolara nezavisnim prodavnicama knjiga širom SAD-a.
Bibliografija
Serija "Alex Cross":
Along Came a Spider (1993)
Kiss the Girls (1995)
Jack and Jill (1996)
Cat and Mouse (1997)
Pop Goes the Weasel (1999)
Roses are Red (2000)
Violets are Blue (2001)
Four Blind Mice (2002)
The Big Bad Wolf (2003)
London Bridges (2004)
Mary, Mary (2005)
Cross (2006)
Double Cross (2007)
Cross Country (2008)
I, Alex Cross (2009)
Cross Fire (2010)
Kill Alex Cross (2011)
Alex Cross, Run (2013)
Cross My Heart (2013)
Hope to Die (2014)
Cross Justice (2015)
Cross the Line (2016)
The People vs. Alex Cross (2017)
Target: Alex Cross (2018)
Criss Cross (2019)
Deadly Cross (2020)
Fear No Evil (2021)
izvan serije:
Alex Cross's Trial (2009), koautor Richard Dilallo
Merry Christmas, Alex Cross (2012)
Cross Kill (2016)
serija "When the Wind Blows":
When the Wind Blows (1998)
The Lake House (2003)
serija "Women's Murder Club":
1st to Die (2001)
2nd Chance (2002), koautor Andrew Gross
3rd Degree (2004), koautor Andrew Gross
4th of July (2005), koautor Maxine Paetro
The 5th Horseman (2006), koautor Maxine Paetro
The 6th Target (2007), koautor Maxine Paetro
7th Heaven (2008), koautor Maxine Paetro
The 8th Confession (2009), koautor Maxine Paetro
The 9th Judgment (2010), koautor Maxine Paetro
10th Anniversary (2011), koautor Maxine Paetro
11th Hour (2012), koautor Maxine Paetro
12th of Never (2013), koautor Maxine Paetro
Unlucky 13 (2014). koautor Maxine Paetro
14th Deadly Sin (2015), koautor Maxine Paetro
15th Affair (2016), koautor Maxine Paetro
The Trial (2016), koautor Maxine Paetro
16th Seduction (2017), koautor Maxine Paetro
17th Suspect (2018), koautor Maxine Paetro
18th Abduction (2019), koautor Maxine Paetro
19th Christmas (2019), koautor Maxine Paetro
20th Victim (2020), koautor Maxine Paetro
21st Birthday (2021), koautor Maxine Paetro
serija "Michael Bennett":
Step on a Crack (2007), koautor Michael Ledwidge
Run for Your Life (2009), koautor Michael Ledwidge
Worst Case (2010), koautor Michael Ledwidge
Tick Tock (2011), koautor Michael Ledwidge
I, Michael Bennett (2012), koautor Michael Ledwidge
Gone (2013), koautor Michael Ledwidge
Burn (2014), koautor Michael Ledwidge
Alert (2015), koautor Michael Ledwidge
Bullseye (2016), koautor Michael Ledwidge
Haunted (2017), koautor James O. Born
Ambush (2018), koautor James O. Born
Blindside (2020), koautor James O. Born
The Russian (2021), koautor James O. Born
serija "Private":
Private (2010), koautor Maxine Paetro
Private London (2011), koautor Michael Ledwidge
Private #1 Suspect (2012), koautor Maxine Paetro
Private Games (2012), koautor Mark T. Sullivan
Private L.A. (2013), koautor Mark T. Sullivan
Private Vegas (2015), koautor Maxine Paetro
Private Berlin (2013), koautor Mark T. Sullivan
Private Down Under (2014), koautor Michael White
Private India: City on Fire (2014), koautor Ashwin Sanghi
Private Paris (2016), koautor Mark T. Sullivan
Private: Missing (2016), koautor Kathryn Fox
The Games (2016), koautor Mark T. Sullivan
Princess (2018), koautor Rees Jones
serija "NYPD Red":
NYPD Red (2012), koautor Marshall Karp
NYPD Red 2 (2014), koautor Marshall Karp
NYPD Red 3 (2015), koautor Marshall Karp
NYPD Red 4 (2016), koautor Marshall Karp
NYPD Red 5 (2018), koautor Marshall Karp
Pojedinačni romani fikcije:
The Thomas Berryman Number (1976)
Season of the Machete (1977)
See How They Run (1979)
Virgin (1980)
Black Market (1986)
The Midnight Club (1989)
Hide and Seek (1996)
Cradle and All (2000)
Black Friday (2000)
Suzanne's Diary for Nicholas (2001)
Sam's Letters to Jennifer (2004)
Miracle on the 17th Green (1996), koautor Peter De Jong
The Beach House (2002), koautor Peter De Jong
Beach Road (2006), koautor Peter De Jong
Guilty Wives (2012), koautor Davis Ellis
Mistress (2013), koautor David Ellis
Invisible (2014), koautor David Ellis
The Murder House (2015), koautor David Ellis
The Jester (2003), koautor Andrew Gross
Lifeguard (2005), koautor Andrew Gross
Judge and Jury (2006), koautor Andrew Gross
The Quickie (2007), koautor Michael Ledwidge
Now You See Her (2011), koautor Michael Ledwidge
Zoo (2012), koautor Michael Ledwidge
Honeymoon (2005), koautor Howard Roughan
You've Been Warned (2007), koautor Howard Roughan
Sail (2009), koautor Howard Roughan
Don't Blink (2010), koautor Howard Roughan
Second Honeymoon (2013), koautor Howard Roughan
Truth or Die (2015), koautor Howard Roughan
Murder Games (2017), koautor Howard Roughan
Sundays ar Tiffany's (2008), koautor Gabrielle Charbonnet
Swimsuit (2009), koautor Maxine Paetro
The Postcard Killers (2010), koautor Liza Marklund
Bloody Valentine (2011), koautor K.A. John
Toys (2011), koautor Neil McMahon
Kill Me If You Can (2011), koautor Marshall Karp
The Christmas Wedding (2011), koautor Richard DiLallo
The President is Missing (2018), koautor Bill Clinton
kraći romani (Bookshots):
Private Royals (2016), koautor Rees Jones
Airport: Code Red (2016), koautor Michael White
The Trial (2016), koautor Maxone Paetro
Break Point (2016), koautor Lee Stone
nefikcijski romani:
The Day America Told the Truth (1991), koautor Peter Kim
The Second American Revolution (1994), koautor Peter Kim
Against Medical Advice (2008), koautor Hal Friedman
The Murder of King Tut (2009), koautor Martin Dugard
Med Head (2010), koautor Hal Friedman
Filthy Rich (2016), koautori John Connolly i Tim Malloy
Knjige za decu i tinejdžere
Serija "Confessions":
Confessions of a Murder Suspect (2012), koautor Maxine Paetro
Confessions: The Private School Murders (2013), koautor Maxine Paetro
Confessions: The Paris Mysteries (2014), koautor Maxine Paetro
Confessions: The Murder of an Angel (2015), koautor Maxine Paetro
serija "Daniel X":
The Dangerous Days of Daniel X (2008), koautor Michael Ledwidge
Watch the Skies (2009), koautor Ned Rust
Demons and Druids (2010), koautor Adam Sandler
Game Over (2011), koautor Ned Rust
Armageddon (2012), koautor Chris Grabenstein
Lights Out (2015), koautor Chris Grabenstein
serija "Maximum Ride":
The Angel Experiment (2005)
School's Out – Forever (2006)
Saving the World and Other Extreme Sports (2007)
The Final Warning (2008)
Max (2009)
Fang (2010)
Angel (2011)
Nevermore (2012)
Maximum Ride Forever (2015)
serija "Middle School":
Middle School: The Worst Years of My Life (2011), koautor Christopher Tebbets
Middle School: Get Me Out of Here! (2012), koautor Christopher Tebbets
My Brother Is a Big, Fat Liar (2013), koautor Lisa Papademetriou
How I Survived Bullies, Broccoli, and Snake Hill (2013), koautor Christopher Tebbets
Ultimate Showdown (2014), koautor Julia Bergen
Save Rafe! (2014), koautor Christopher Tebbets
Just My Rotten Luck (2015), koautor Christopher Tebbets
Dog's Best Friend (2016), koautor Christopher Tebbets
Escape to Australia (2017), koautor Martin Chatterton
serija "I Funny":
I Funny (2012), koautor Chris Grabenstein
I Even Funnier: A Middle School Story (2013), koautor Chris Grabenstein
I Totally Funniest: A Middle School Story (2015), koautor Chris Grabenstein
I Funny TV: A Middle School Story (2015), koautor Chris Grabenstein
I Funny School of Laughs: A Middle School Story (2017), koautor Chris Grabenstein
serija "Treasure Hunters":
Treasure Hunters (2013), koautori Chris Grabenstein i Mark Shulman
Danger Down the Nile (2014), koautor Chris Grabenstein
Secret of the Forbidden City (2015), koautor Chris Grabenstein
Peril at the Top of the World (2016), koautor Chris Grabenstein
serija "House of Robots":
House of Robots (2014), koautor Chris Grabenstein
Robots Go Wild! (2015), koautor Chris Grabenstein
Robot Revolution (2017), koautor Chris Grabenstein
serija "Witch and Wizard":
Witch and Wizard (2009), koautor Gabrielle Charbonnet
The Gift (2010), koautor Ned Rust
The Fire (2011), koautor Jill Dembowsky
The Kiss (2013), koautor Jill Dembowsky
The Lost (2014), koautor Emily Raymond
pojedinačne knjige:
SantaKid (2004)
Boyd Will Be Boys (2011)
First Love (2014), koautor Emily Raymond
Homeroom Diaries (2014), koautor Lisa Papademetriou
Public School Superhero (2015), koautor Christopher Tebbetts
Jacky Ha-Ha (2016), koautor Chris Grabenstein
Word of Mouse (2016), koautor Chris Grabenstein
Humans, Bow Down (2016), koautori Emily Raymond i Jill Dembowski
Filmografija
Child of Darkness, Child of Light (TV serija, 1991)
Kiss the Girls (film, 1997)
Miracle on the 17th Green (TV serija, 1999)
Along Came a Spider (film, 2001)
1st to Die (TV serija, 2003)
Suzanne's Diary for Nicholas (TV serija, 2005)
Women's Murder Club (2007)
James Patterson's Sundays at Tiffany's (TV serija, 2010)
Alex Cross (film, 2012)
Zoo (TV serija, 2015)
Middle School: The Worst Years of My Life (film, 2016)
Instinct (TV serija, 2018)